Contact Info
Author Info
Cybernet Introduces The All In One Computer iOne-H5 And The CyberMed G45
16-Aug-2012 | News-Press Release
The All in ione-H5 is one of Cybernet's new multi-touch, all in one pc, that' has been top rated for its multitasking abilities. One can use it as a medical all in one PC, EMR computer, or industrial all in one PC; making it very ideal for many scenarios.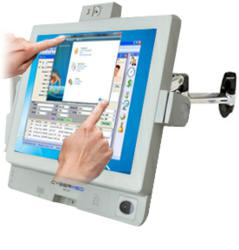 With this computer one can view multiple data sets or use many different software applications at the same time and view them on its 20-inch widescreen display. The iOne-H5 has an optional touch screen with 1-, 4- or 10-input multi-touch for even greater productivity. It also has an outstanding digital media support for high-definition video and 3D graphics. With exceptional power, speed, and reliability, one can free up valuable space while maximizing performance.
The CyberMed G45 is the other computer Cybernet is very proud of. It comes with a chipset that has powerful graphics that is well suited for today's health care applications; even those that demand high-resolution images or 3D graphics. The CyberMed G45 has a standard Intel Core 2 Duo E5500 CPU, 2GB DDR3 and a 500GB hard drive. The 4:3 format display, Intel CPU and up to 8GB of memory affords its users the performance needed to also run EMR software, offering critical computing power at the point of care.
These are just two of their recent accomplishments. Cybernet also offers a wide array of other computer models that are designed and tested for maximum reliability to satisfy the different needs and wants of their clients.
About Cybernet
Cybernet is the pioneer in high-performance, all-in-one PC technology for multiple markets like health care, banking, education, government, and other industries. Since 1996, they have focused their design and manufacturing efforts on space saving IT solutions, customized for their customers' unique environments and computing needs. Their product range includes all-in-one PCs in an LCD monitor, all-in-one PCs in a keyboard, and medical grade all-in-one PCs that can be used in sterile environments.
Show HTML Embed Snippet
This release was submitted by a PRSafe user.
Any communication related to the content of this release should be sent to the release submitter.
Author Info
Tag Cloud
Categories
More Releases
Comments